---
LA GERMINATION
D'autres mondes possibles (épisode 1)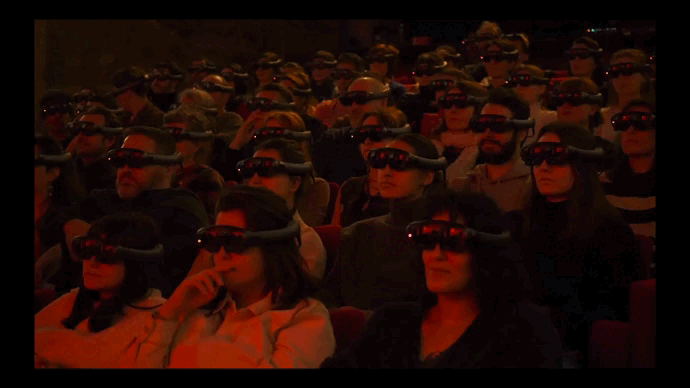 >> pièce AR pour 80 spectateurs, dirigée et mise en scène par Joris Mathieu et Nicolas Boudier en Cie de Haut et Court



Quelle voie choisir pour rendre possible l'éclosion d'un monde plus désirable ? Une interrogation vertigineuse mise en scène à travers un dispositif immersif de réalité augmentée, une utopie dont vous êtes le héros.

Et si, autour de vous, portées par l'air du temps, flottaient des utopies en germe ? Et si ces autres mondes possibles, invisibles à l'oeil nu, tentaient d'entrer dans vos esprits pour avoir une opportunité de se développer ?
Dans La Germination, vous serez les acteurs d'une performance qui engagera toutes vos ressources afin de déterminer le chemin que vous souhaitez faire emprunter à la société, dans un futur proche. Munis de lunettes de réalité augmentée, vous deviendrez maîtres du destin de vos congénères. Immergés dans une société qui, pour survivre, ne peut plus se contenter de l'immobilisme, vous rencontrerez des militants et militantes qui tenteront de vous convaincre de suivre leurs idéaux. Dans cette fiction immersive, construite comme un « jeu de société », trois chemins utopiques s'offriront à vous. Choisirez-vous le transhumanisme, qui mise sur l'évolution de l'homme par sa fusion avec les technologies ? Ou l'anti-spécisme, qui voit l'humain survivre par de nouvelles relations avec d'autres espèces vivantes ? Ou bien préférerez-vous le cosmopolitisme, qui s'appuie sur un nouveau partage des ressources par-delà des frontières actuelles ?
>> AR show for 80 spectators, directed by Joris Mathieu et Nicolas Boudier and Cie de Haut et Court



Which way to choose to make possible the blossoming of a more desirable world? A dizzying questioning staged through an immersive device of augmented reality, a utopia in which you are the hero.

What if, around you, carried by the air of time, utopias were floating in germ? And if these other possible worlds, invisible to the naked eye, tried to enter your minds to have an opportunity to develop?
In The Germination, you will be the actors of a performance which will engage all your resources in order to determine the way you wish to make take to the society, in a near future. Equipped with glasses of augmented reality, you will become masters of the destiny of your fellow creatures. Immersed in a society that, in order to survive, can no longer be satisfied with immobility, you will meet activists who will try to convince you to follow their ideals. In this immersive fiction, built as a "board game", three utopian paths will be offered to you. Will you choose transhumanism, which bets on the evolution of man through his fusion with technology? Or anti-speciesism, which sees humans surviving through new relationships with other living species? Or would you prefer cosmopolitanism, which relies on a new sharing of resources beyond current borders?